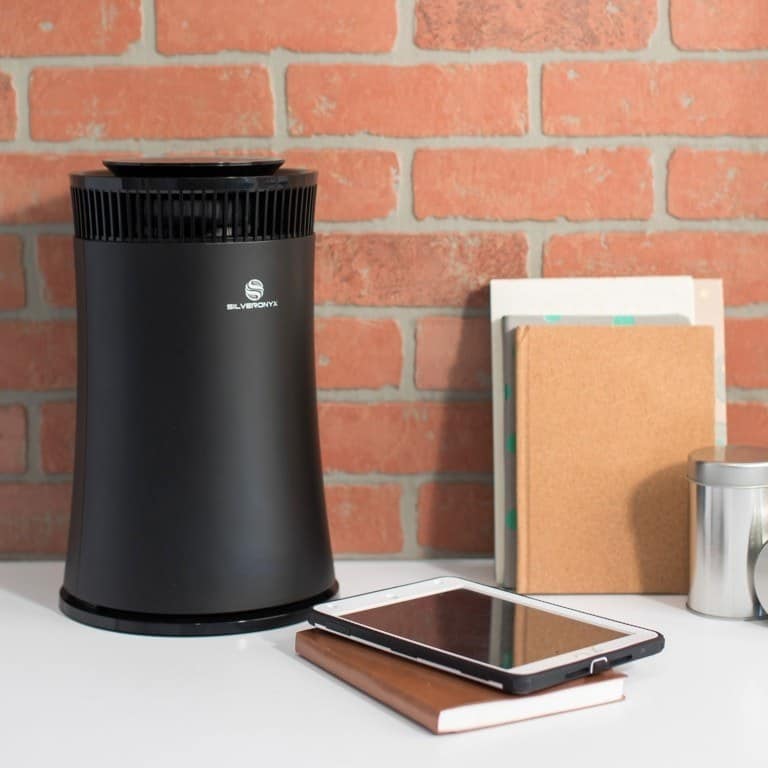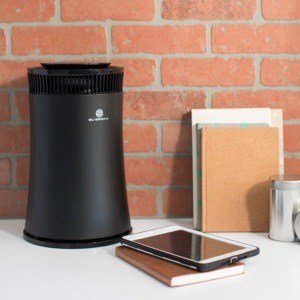 You walk into a room and your nose tries to run away. There it is. The smell of stale cigarette smoke.
Even if a cigarette hasn't been smoked in a room for years, previous cigarettes can cause a smell to continue lingering for an indefinite period. That is because of the composition of cigarette smoke.
The combination of tar, nicotine, and chemicals leaves a thin, almost waxy, layer of particles that will coat everything in a room. Those particles will linger in the air too. That's why the odor can continue for decades if the room hasn't been thoroughly cleaned.
Thankfully, there are steps you can take to recover a home or prevent indoor odors from accumulating. The best air purifiers for cigarette smoke filter the indoor air, remove the smoke and odor particles, and leave each room smelling better than before.
What Are the Best Air Purifiers for Cigarette Smoke?
There are several different sizes, styles, and designs available today when shopping for an air purifier. How do you know which one will be able to meet your needs?
These are the top-rated air purifiers that are proven to remove cigarette smoke and its odors consistently and effectively. Be sure to review each item thoroughly to determine if it will satisfy your requirements today.
Air Purification: Is It Something You Actually Need?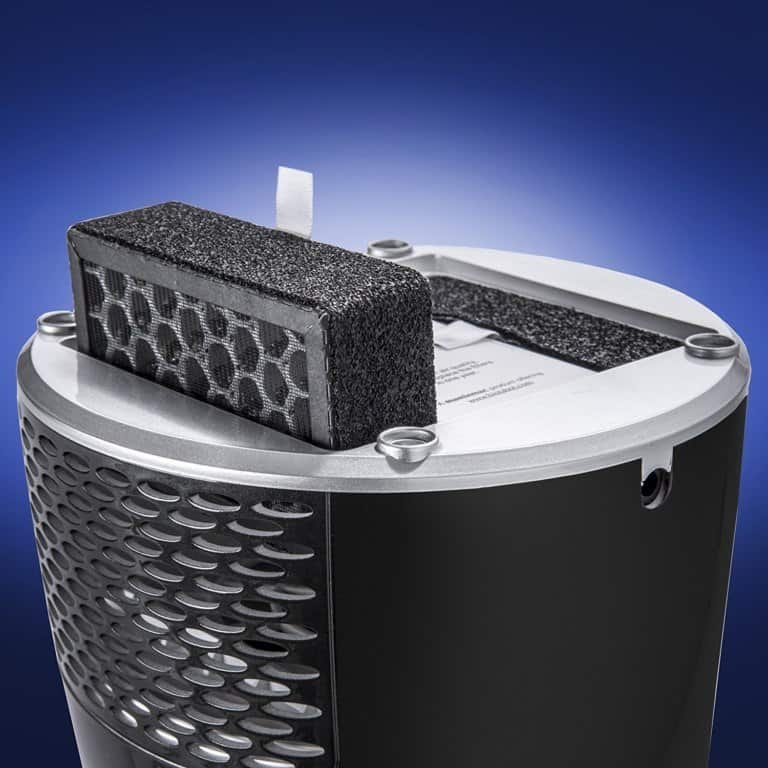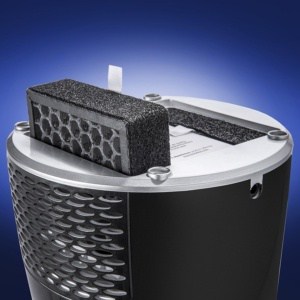 Breathe in deeply. Can you even do it without a sneeze or a cough?
One of the outcomes that have developed from energy-efficiency technologies are homes that have fewer drafts. That means less air transfers from outside the home to the inside. You're lowering costs, but sealing in irritants and pollutants, like cigarette smoke, that has nowhere to go.
For that reason, the best air purifiers for cigarette smoke look to be a tempting purchase to make. You want to reduce the odor. You may have allergies or asthma-like symptoms that you're trying to reduce as well. An air purifier could help you to accomplish these goals.
To improve indoor air quality, pollutant sources must be minimized. That means to remove cigarette smoke odor, no one can keep smoking inside the home or discard used cigarettes indoors.
To accomplish these goals, you will want to include these steps into your regular cleaning routine.
Vacuum on a daily basis. Use a vacuum with HEPA filters if possible. Discard the dust and debris immediately and do so outside to prevent recontamination.
Stop indoor smoking. Even smoking near a window or into a wet towel offers the potential of leaving trace materials behind that could cause future odors.
Have your HVAC system serviced routinely. Inspect it once per month and have it professionally cleaned 1-2 times per year.
Change the air filters for your HVAC system every quarter. Use HEPA filters if possible.
Reduce the use of candles, using an open fireplace, or any other item that will generate smoke in addition to cigarettes.
Use exhaust fans every day in high-use rooms, such as the kitchen and bathroom.
If these steps do not help remove the stale odors of cigarettes from your home, then it may be time to invest in an air purifier.
Features of the Modern Air Purifiers
If you're shopping for the best air purifiers to remove cigarette smoke, then there are several features available in this category that you'll want to know about. Here are the primary options that you'll want to think about including with your purchase today.
Get an air purifier that uses a fan to pull in the air so it can be filtered. Fanless models can filter air with the natural air movement in your home for a quieter experience, but the results are not as positive than units that use fan-based suction.
Find an air purifier that offers several different speeds of operation. Some models can self-adjust to your air cleaning needs, such as running on a lower setting while you sleep at night. You can also program some models to recognize high-pollution environments, such as the presence of cigarette smoke, so the highest setting can be turned on immediately.
Look for air purifiers that offer a programmable timer. This allows you to run the unit for a specific period, even if you're not at home. It will turn off automatically and allow you to enjoy an odor-free room because it began working before you had to use that space.
Another feature, which is extremely useful with the modern air purifier, is a servicing indicator. The filter for the unit, whether it is a HEPA filter or a HEPA-like filter, will eventually become clogged. Having the air purifier tell you this can let you know the precise time to change your filter or wash them so you receive the best possible output every day.
Additional features that may be included with some models include a remote control, carrying handles, and dirt sensors.
Some models may offer an ionizer that does not produce ozone. You'll need to check the best air purifier reviews, the unit's product description, or its operation manual to determine the exact function of this feature for the air purifier you're looking at purchasing.
What Are the Pros and Cons of Air Purifiers for Cigarette Smoke Removal?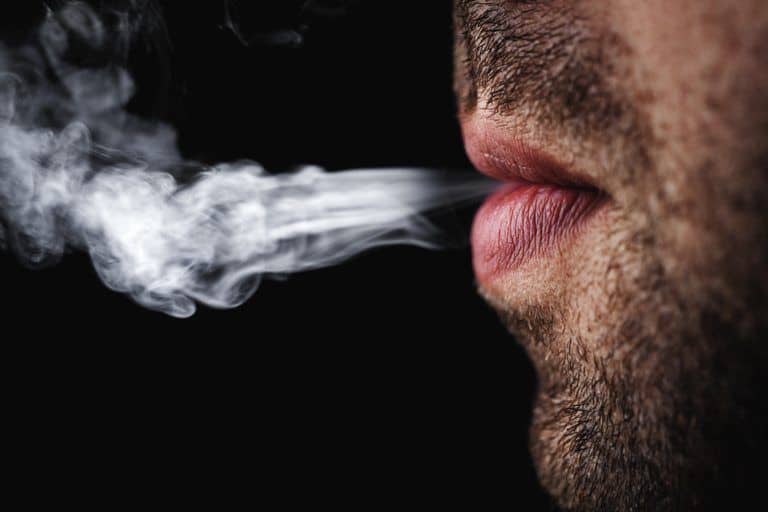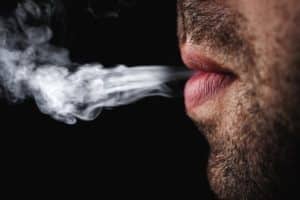 Pros:
1. Air purifiers are lightweight tools that can be used in virtually any room of a home. Most weigh 20 pounds or less, have portability features, and will stand independently. Larger models tend to have wheels to make it easy to move the air purifier from room to room.
2. Many air purifiers come equipped with a HEPA filter. This allows the air purifier to capture the small odor particles that cigarettes can leave behind.
3. Several air purifiers have been granted Energy Star qualifications. This means they are energy-efficient and will reduce the running costs of the unit. To save even more money with your new air purifier, look for a model that offers a washable filter so you can keep reusing them to filter your air.
4. Most models are assigned a Clean-Air Delivery Rate, which is often abbreviated as "CADR." This rating is a measurement of the maximum cleaning speed of the unit. It comes from the Association of Home Appliance Manufacturers but is a voluntary program at this time. Look for a unit with a CADR above 300 for cigarette smoke removal. Anything rated 125 or lower should be avoided.
Cons:
1. Many air purifiers use some form of ozone-generation technology to help remove odor particles from an indoor environment. Ionizers and electrostatic precipitators both offer the potential for ozone production. If you live in California, ozone generation or air purifiers that product 50ppb are not available for purchase.
2. The operating costs of an air purifier can be somewhat high compared to other odor removal products. Expect to pay up to $200 per year for the maintenance needs of your air purifier. This includes replacing the filter once per year, replacing pre-filters if necessary, and other unit-specific needs that must be met.
3. They can be loud. Larger units that can run at lower speeds tend to provide the best results. Smaller units running at higher speeds can be louder than a box fan set on high.
4. Even air purifiers that are rated to remove volatile organic compounds with activated carbon filters need frequent replacements. A carbon filter may need to be replaced every 3 months, which adds a further cost to the ongoing maintenance requirements of the air purifier.
What Are the Prices of the Best Air Purifiers for Smoke Odor Removal?
Air purifiers that can remove smoke odors are priced at three different levels: budget-friendly, all-purpose, and premium.
Budget-friendly air purifiers will take longer to remove odor particles. They may have HEPA-like filters instead of a true HEPA filter. In return for these compromises, you can often find an air purifier priced less than $75 that will help to improve the cigarette smoke odor issues in your home. Some desktop models are priced less than $40.
All-purpose air purifiers are designed to provide one room of odor control support. They typically offer a true HEPA filter and may have additional features in varying combinations so you can meet specific needs. This category requires you to pay attention to the reviews, descriptions, and manuals of each unit to ensure that you're purchasing the best possible product. In return, you can often find an excellent air purifier that is priced below $200.
Premium air purifiers will either provide a single room with a high-powered experience or provide homeowners with whole-house support. These models are often feature-rich, have Energy Star ratings, and require little maintenance. Some can hook directly into a home's HVAC system. Expect to pay at least $500 for models in this category. Whole-house air purifiers that remove cigarette smoke can be priced above $1,000.
If you decide on a whole-home air purifier, check the square footage rating of the unit before finalizing the transaction. Some whole-home models are designed to purify 1,000 square feet or less.
Reviews You Can Use to Find the Best Air Purifier for Cigarette Smoke Odors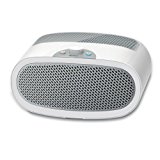 This desktop-style air purifier proves that great things still come in small packages. The filtration system can remove particles as small as 2 microns from the environment. The filtration system utilizes Arm and Hammer technologies to help remove odors that are present. There is an optional ionizer that can be used as well. It is best used in small spaces if smoke odors are what need to be eliminated. With a CADR of 65, it's good for a bathroom or small bedroom, but nothing larger.
Click here to find the best price on Amazon.

With 5 different stages of air purification, you'll receive a true HEPA experience with this helpful unit. It is rated as a medical-grade air purifier but does contain an ionizer to help achieve that rating. It produces 10 million negative ions per second while sending air through an activated carbon filter. You'll notice an improvement in a single room in about 2 hours, with lingering smoke odors sometimes taking up to 8 hours to make an impact. We really liked the included timer so the product can automatically shut off so you're not stuck breathing in the ionized air.
Click here to find the best price on Amazon.

This 3-in-1 air cleaning system does a surprisingly good job of removing old, stale, and lingering smoke odors in a room. With a charcoal filter and a true HEPA filter, just shut the door to a room and let this equipment go to work. With the UV-C light technologies as part of the filtration system, even mold spores, viruses, and bacteria are eliminated from the environment. It's about as close to what an ozone system can provide while using only air purification technologies.
Click here to find the best price on Amazon.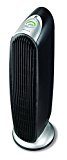 The one problem that air purifiers tend to have is their noise. You essentially trade one type of indoor pollution for another. With this QuietClean model, however, you have a noticeably quieter user experience. It contains washable filters that require a simple rinse and air drying to clean. It is ARB Certified for US ozone emissions limits and offers an LED touch display so you can control the experience. It can capture up to 99% of the airborne particles that contribute to the stale smoke odors that your home may be experiencing right now.
Click here to find the best price on Amazon.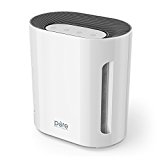 If you're looking for an affordable true HEPA air purifier experience, you'll struggle to find a better option than this one. It contains UV-C light technologies for sanitization and operates at just 30 decibels, so it is super quiet. You basically just plug the unit into a standard outlet straight out of the box and it gets to work right away. The CADR is just 80, however, so for active smokers, there may not be enough strength with this unit to provide ongoing air filtration needs. For improving a smoke-free environment, however, this unit does a fantastic job.
Click here to find the best price on Amazon.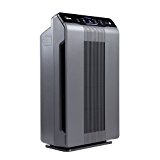 This is another 3-stage true HEPA filtration air purification system that will make an immediate impact on your indoor environment. The difference with this unit is that it includes a permanent filter that breaks down the odors. Using PlasmaWave technologies, combined with smart sensor gauges, this unit can automatically detect what the contamination level in the room happens to be and adjust its performance to match. There is also a sleep mode so the unit operates through the night without disturbing your dreams. It's easily one of the best air purifiers for smoke odors available right now.
Click here to find the best price on Amazon.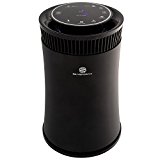 If you're looking to improve the indoor air quality in a single room, then consider this true HEPA air purifier. It offers 5 levels of filtration and has a built-in air ionizer to charge the particles in the room. A PM2.5 sensor automatically adjusts air flow to meet the current demands of the room. With an activated carbon filter and the other features you want, you'll find that this product is a worthwhile investment that will keep paying you dividends for the months and years to come.
Click here to find the best price on Amazon.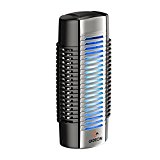 Sometimes you need a portable air purification option for your travels. Even non-smoking hotel rooms can smell like smoke when someone sneaks a cigarette in there. Just take this affordable tool with you, plug it into a standard outlet, and let it get to work. You'll be able to freshen up the environment in an hour or two. It's a good option for homes with inadequate venting in a bathroom or kitchen to improve the indoor air quality in those rooms as well. Because it only consumes 8 watts of energy, you won't have to pay much to improve 150 square feet.
Click here to find the best price on Amazon.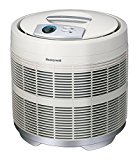 If you have a large area that smells like smoke in your home, then the 360-degree intake system on this air purifier is something to think about. It provides a true HEPA experience, offers an activated carbon pre-filter, and has an electronic filter indicator to let you know when it's time to clean or change your filters. Available in white or black, you can even vacuum the HEPA filter on this model to extend its life to 3-5 years. Considering the coverage and its price, this is a solid deal that deserves a closer look.
Click here to find the best price on Amazon.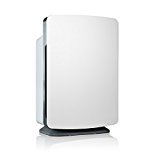 If your budget can handle a larger investment, then get this air purifier. Its OdorCell HEPA filter is one of the best in the industry today. Run it for an hour or so and you'll notice an immediate improvement in your indoor air quality. Several colors are available to match your décor. In an open layout, this model can handle up to 1,100 square feet. It is quiet, effective, and will help you breathe easier without stale smoke odors filling your lungs.
Click here to find the best price on Amazon.
The best air purifiers for cigarette smoke will help your home smell better so you can breathe better. Get your home sold, pass your inspection, or do it for your own satisfaction. Act today and you'll be making one of your best purchases this year.